BELGRADE - Major Goran Savic, a pilot of the Technical Test Center of the Serbian Armed Forces, succumbed to injures sustained in Wednesday's crash of a Serbian military aircraft V-54 Lasta in Nova Pazova, near Belgrade, the Defence Ministry said.

The second pilot, Lieutenant Colonel Tomislav Becagovic, is slightly injured, conscious and orientated, without any signs of internal bleeding, fractures, and in no jeopardy of life.

The pilots were on a regular technical aircraft test flight.

A Serbian military aircraft V-54 Lasta crashed in Nova Pazova, near Belgrade, around 10:15 CET on Wednesday, with both pilots ejected from the plane, theministry released.

Serbian Defense Minister Aleksandar Vucic has ordered immediate investigation.


Serbia's First Deputy Prime Minister and Defense Minister Aleksandar Vucic cut his visit to Cyprus short after a Serbian military pilot was killed during a test fight.

Vucic is returning from Cyprus early on account of the crash, the Ministry of Defense told Tanjug.

http://www.tanjug.rs/news/60576/military-plane-crashes.htm

gvla

Member





Αριθμός μηνυμάτων

: 776


Ημερομηνία εγγραφής

: 2011-09-22



Савке, нека ти је лака земља, почивај у миру!


I still can not beleve this, I knew the passed pilot
He was one of most kinded pilots out there, always willing to share his knowelage and lot of photo/video material with others
Some of his videos are posted on this forum as well

It is still not known what happend, and I will write more about Major Savic later

Mix

Member





Αριθμός μηνυμάτων

: 363


Ημερομηνία εγγραφής

: 2011-10-09



Mix wrote:Савке, нека ти је лака земља, почивај у миру!


I still can not beleve this, I knew the passed pilot
He was one of most kinded pilots out there, always willing to share his knowelage and lot of photo/video material with others
Some of his videos are posted on this forum as well

It is still not known what happend, and I will write more about Major Savic later
RIP.He tried to save some houses spending more time in cockpit?
_________________

mp210

Διαχειριστής





Αριθμός μηνυμάτων

: 133


Ημερομηνία εγγραφής

: 2011-09-20



Yes, he decided to stay at controls rather to jump out earyer.
He managed to avoid collision and crashed between two house.
Nova Pazova is a small town next to airport as you can see on this image
There are some speculations about cause of crash, and there are two versions
-conecting rod snaped and pierced engine block, setting fuel line on fire
-controls mailfuncioned
I hope that we will know the right reasons, there is a big investigation underway, with some statistical work
MOD is now considering to fit ejection seat into Lasta( most basic prop trainers do not have ejection seats), which was part of tehnical request issued by AF in the first place. We all know the problem-price which is about one third of aircraft value

Mix

Member





Αριθμός μηνυμάτων

: 363


Ημερομηνία εγγραφής

: 2011-10-09



The investigation still is not over, but killed pilot major Savić was postmortem awarded by "Miloš Obilić" Golden medal for courage
He was instructor at flight acatemy flying G4Supergaleb and test pilot for serbian AF
Married and father of two sons
Flying was his life, and he shered beautifull moments in the air with us who do not have chance to fly so often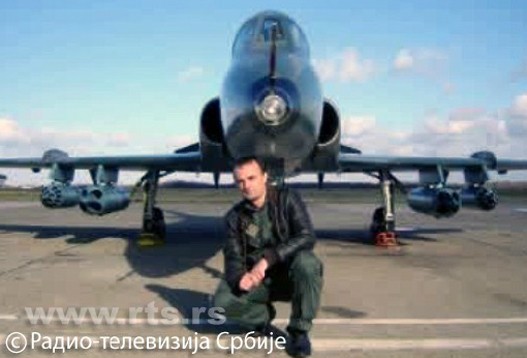 Always patient to respond on stupid an other questions, bringing aviation closer to us who love it. Also he made 3d models for Flight Simulators
https://www.facebook.com/Goran.Savic.YT2A
He flew last time in front of the audience at celebration of 100 years of Serbian Air Force, showing great program at G-4 Supergaleb comands
Here we can see him here executing "Bell" (Zvono) manevuer
If someone want to see this is his youtube chanell:
Major G Savic youtube aviation chanell
Army helicopter came quickly and managed to land in narrow street to pick up wounded pilots, but despite best effort they couldnt save Savke´s life
Blue sky Savke and thank you for everything!

Mix

Member





Αριθμός μηνυμάτων

: 363


Ημερομηνία εγγραφής

: 2011-10-09



Deep respect,unwritten laws among pilots really exist.

That plane deserves ejection seats.
_________________

mp210

Διαχειριστής





Αριθμός μηνυμάτων

: 133


Ημερομηνία εγγραφής

: 2011-09-20



---
Permissions in this forum:
You
cannot
reply to topics in this forum